My sister-in-law, Amanda, has been insisting I start watching Doctor Who. So after 'trying' to wait for my husband to watch it with me, I just went ahead and started watching it without him. . OF COURSE I GOT HOOKED! I mean come on. . . How could a nerd like myself NOT get hooked 🙂
So as I was ending the last available season on Netflix & contemplating Amanda's birthday, my husband happened to have a stereo delivered. I looked over saw my 11 month old son playing with the box and thought now hey THAT box would make a good Tardis. So I went on a mission to create a birthday present for Amanda. First to find out, which doctor she liked. She told me the 10th and the 4th. After seeing the 4th, I just KNEW I had to turn my curly haired son into Tom Baker. So I enlisted the help of a couple talented friends and clients to create his outfit, and then started researching the 4th doctor's tardis, from what I found online, the 4th doctor had a 'black' sign vs the white you see in the older/newer episodes & his tardis was simpler than the others. SCORE! I can do this!
Also, while researching the 4th doctor I also came across the quote "There's no point being grown-up if you can't be childish sometimes". This solidified everything. It was just too perfect, the quote, the curly hair, everything. I HAD to do this. Meanwhile my husband was sitting there looking at me like I'm crazy because my inner nerd was totally shining through & I was getting more and more excited as each piece started falling into place! It took a month to piece together & set up everything, but I love the end result! If you have some nerd in you, I'd love to hear from you! 🙂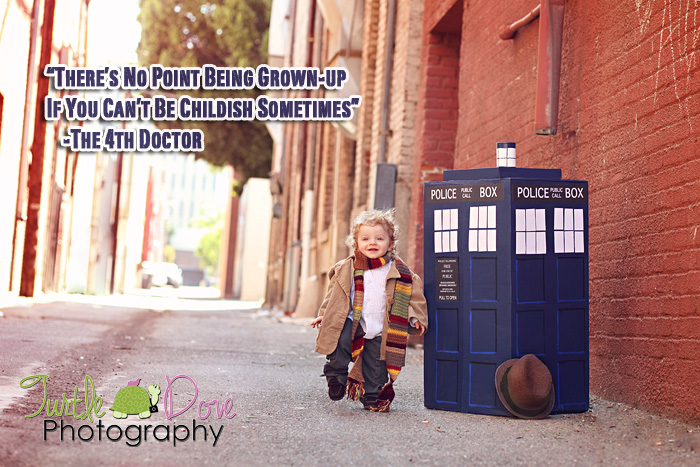 It was made using a stereo box, pizza box, can of soup, paint, printer/cardstock paper, scissors, a glue stick – and a lot of patience lol!